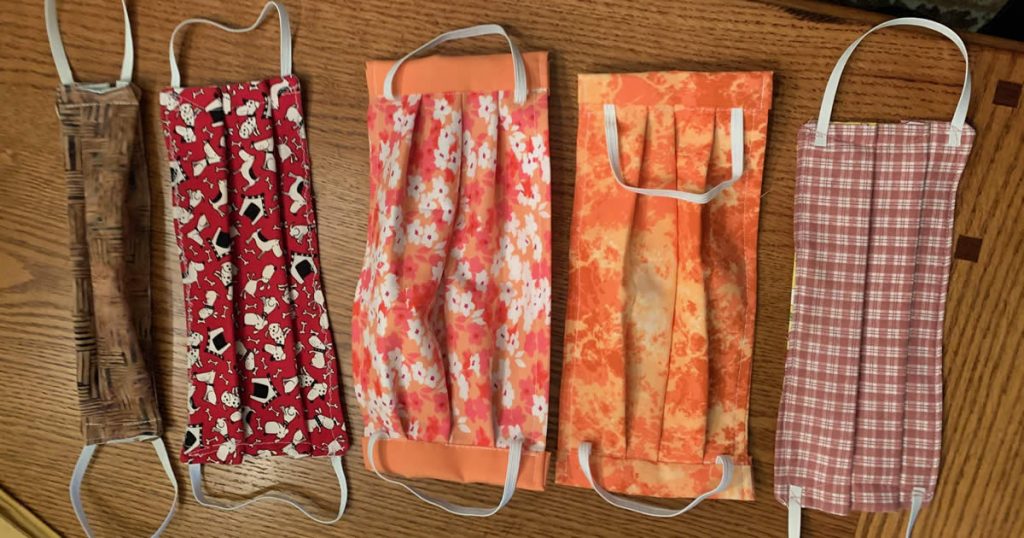 "You need not go back four thousand years for heroines. The world is filled with them today. They do not belong to any nation, nor to any religion, nor exclusively to any race. Wherever woman is found, they are found."
It's been said many times before and has always been true, Edgewater is a truly wonderful and giving community. And it is in times of sorrow and distress that our own heroines step forward to meet the needs of neighbors and friends.
The project started out small. Judy Weller and Nadine Amy were determined to see that anyone in Edgewater who needed a protective mask would have one.
Vern Tepe suggested that each mask sell for $5.00 and that the proceeds go directly to Food for Greater Elgin. He would take orders, deliver the masks and, of course, keep a detailed spread sheet of monies collected just in case of any IRS audit.
The two ladies quickly enlisted the help of expert seamstresses Kate Budnick, Lynn Carlsen, Nancy Dorn, Marina Wray, Santa Sidari, Nancy Baker, Marge Sherer, Annette Gage and Jackie Polk.
Within two days of the birth of this fledging nonprofit, over 300 orders were received. The ladies are literally working around the clock to produce these unique and quite fashionable face masks. Their new 'delivery boy" is busy morning, noon and night keeping abreast of the deliveries.
Because of the efforts of this little band of hero and heroines, and the generosity of the Edgewater community, a sizable check was presented to Mike Montgomery, Executive Director of Food for Greater Elgin.
So please, when you see these lovely ladies at the lodge, a club meeting or a Fun Friday, give them extra squeeze, they so deserve it!
PS – So far over $14,000 for Food for Greater Elgin was raised through these efforts.